Are you looking for new skills in your company? SKEMA students are looking for internships...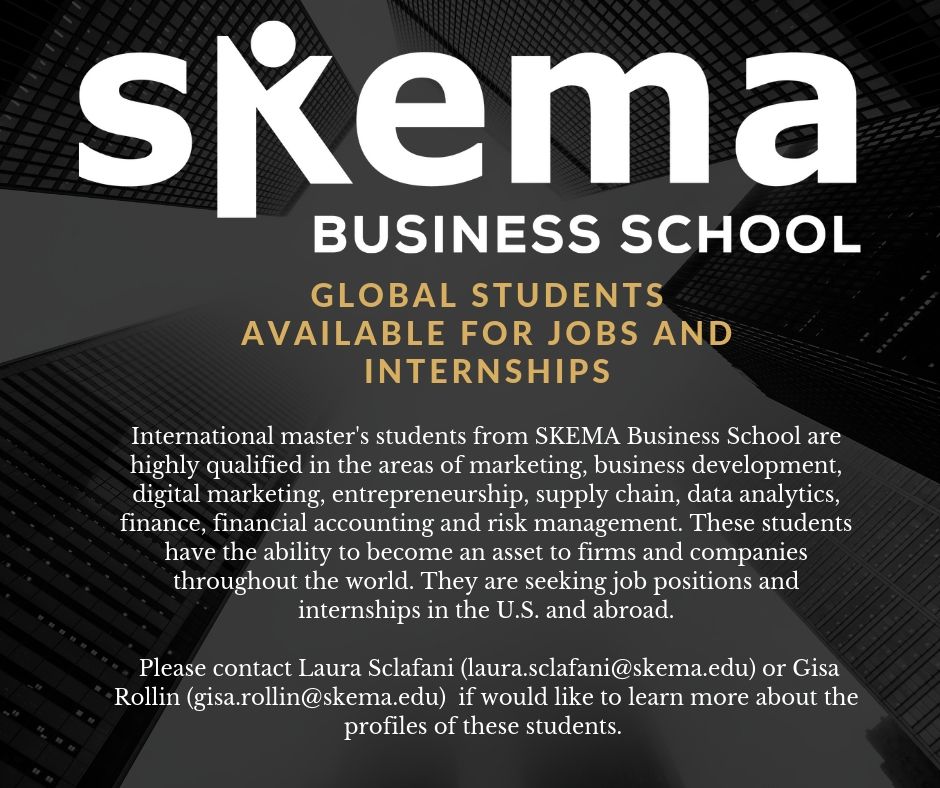 Good news, It's the perfect period of the year for that! Highly qualified SKEMA students are currently seeking internships for their graduate requirements over the next year. Many international students from SKEMA have the opportunity to work in the United States (without the need for sponsorship) for up to one year following their course of study.
These students, currently pursuing Masters level degrees, have studied and lived in various economic climates.
Most have completed prestigious internship positions prior to starting their masters and are at an exceptionally high level of academic achievement in their studies.
There are two main courses of study at the Masters level:
International Business,
Financial Markets and Investments.
This qualifies SKEMA students to engage in a variety of job functions throughout all facets of business.
Marketing, business development, digital marketing, entrepreneurship, supply chain, data analytics, finance, financial accounting and risk management are a few of the areas SKEMA graduates have excelled in after completing their studies.
These students, graduating in June, have the ability to become an asset to firms and companies throughout the world.
Primarily focused on the U.S. job market, many of them would like to have U.S. experience to add to their robust list of accomplishments.
Please let Laura Sclafani (laura.sclafani(@)skema.edu) or Gisa Rollin (gisa.rollin(@)skema.edu) know if you have available positions you are looking to fill or might be looking to add talent to your team in the upcoming months.