Seize the summer downtime to boost your skills in financial theory, tools and markets with 10 evening sessions conveniently scheduled so you can work & learn.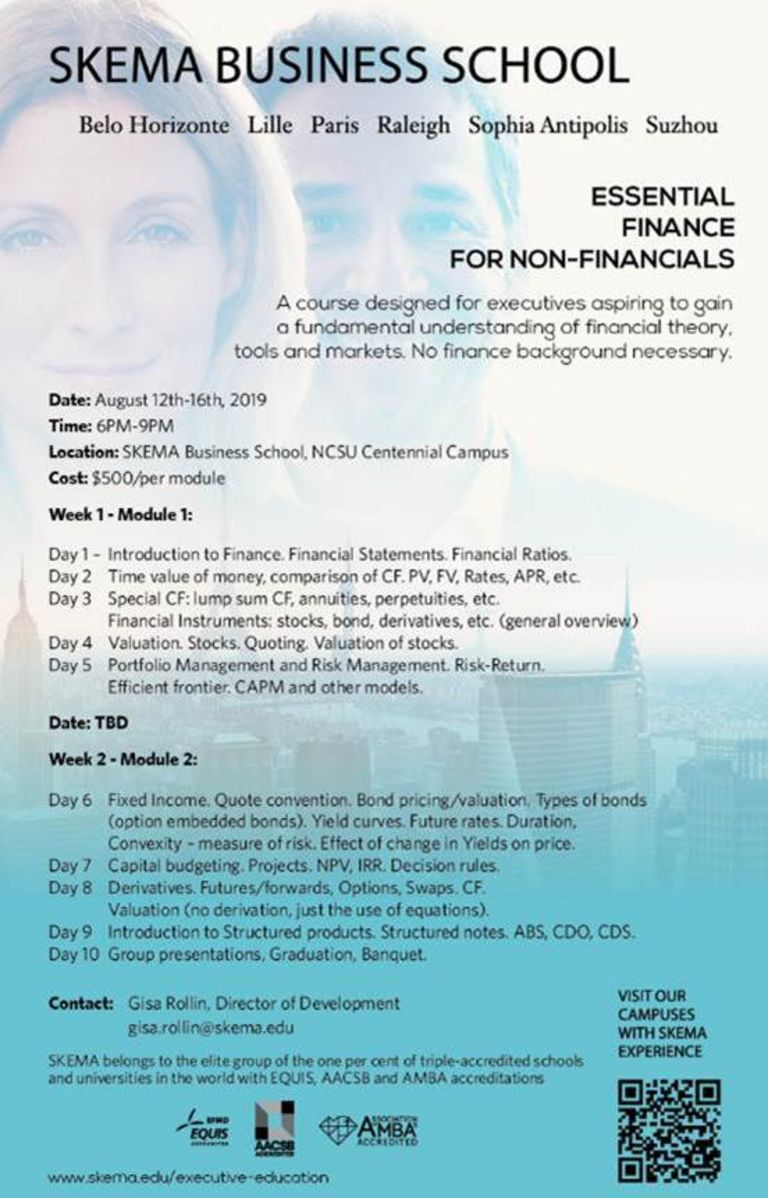 Our Member SKEMA Business School is ranked among the 12 best Executive MBA by Forbes 2019.
At the heart of the Centennial campus of North Carolina State University in Raleigh, global SKEMA Business School born in France has more than 30,000 square feet (2,500 m2) for its students, for whom interaction between American and international students is part of day-to-day life.
Establishing a campus in the Triangle area, a gateway to the leading high-tech cluster in the US is no coincidence. SKEMA has forged a reputation and an identity for its schools in high-tech clusters and world-class business centres, thereby offering its students ample opportunity for involvement in vibrant business environments. SKEMA was drawn to the region given the world renowned reputation of the Research Triangle Park and the quality of its higher education system.
SKEMA Business School US offers Essential Finance for Non-Financials as a program designed for executives aspiring to gain a fundamental understanding of financial theory, tools and markets.
This course is led by Doctor Alexander Deshkovski, Director of Financial Markets and Investments Program - ranked 4th worldwide by Financial Times.
Alexander Deshkovski holds a PHD in Physical Chemistry and a PhD in Business Administration (UNC Chapel Hill). He teaches derivatives and financial engineering, asset valuation, financial analysis, and corporate finance. His research focuses on asset pricing, high frequency data analysis, derivatives and trading strategies.
Designed so you can work & learn, each module is conveniently broken down in 5 evening sessions delivered between 6-9pm over 2 weeks.
Cost: $500 per module (5 evening sessions in 1 week)
More information? Contact Gisa L. ROLLIN, Development Director SKEMA Business School – US Campus at gisa.rollin(@)skema.edu | +1 (215) 900 4054