Your Questions Answered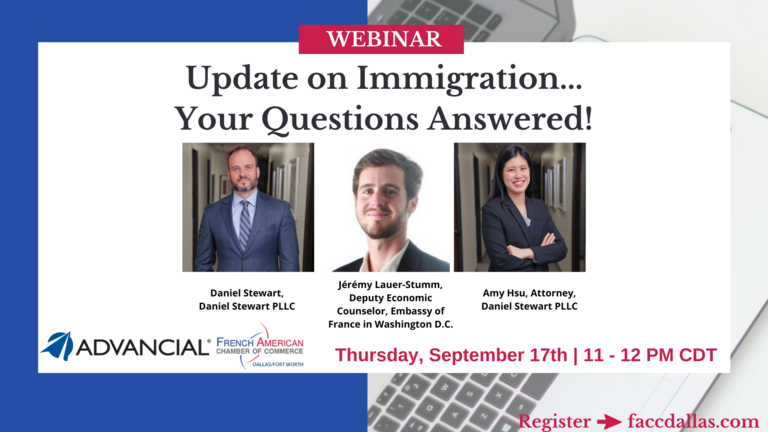 This is an information session surrounding the obstacles immigrants face while working for international businesses during a global pandemic. Human Resource managers and employers alike are struggling to navigate immigrant worker restrictions while green card workers and temporary workers on non-immigrant visas endure the consequences of general travel restrictions, massive unemployment, and the ban on certain foreign national visas.
The objective of this session: To gain insight into some of the immigration issues individuals and HR Managers face currently in international businesses.
Earn HRCI credit hour for attending, certification hour awarded after the event
About Our Speakers:
Daniel Stewart, Daniel Stewart PLLC Immigration
Attorney Daniel Stewart is a zealous advocate for immigrant rights and focuses his practice on deportation defense, family immigration, citizenship litigation in the US District Courts, and asylum law. He also focuses on helping survivors of domestic violence and crime obtain legal status in the United States. Additionally, Mr. Stewart handles visas for religious workers, investors, and professional athletes. He is Board-Certified in Immigration & Nationality Law by the Texas Board of Legal Specialization. He was selected as a 'Rising Star' by Super Lawyers, a Thomson Reuters attorney rating service, for 2014, 2015, and 2016. Daniel has extensive experience discussing immigration issues on radio programs and speaking in community outreach events.
Daniel was born in Utah and raised in Geneva, Switzerland. He is fluent in French and Spanish. He graduated from the University of Texas at Austin in 2001 with a Bachelor of Science in Communication Studies. In May 2006, Daniel received his Juris Doctor from Texas Tech University School of Law. While in law school, Daniel studied private international law at Lyon III University in Lyon, France. He also served as a law clerk for the US Department of the Interior in Washington, D.C.
When not at work, Daniel coaches rugby at the University of Texas at Dallas and enjoys spending time with his wife and their four children. Daniel is admitted to practice law in Texas, as well as the United States Courts of Appeals for the Fifth Circuit, and the US District Court for the Northern District and the Eastern District of Texas. He is a member of the American Immigration Lawyers Association and has featured as a speaker on bond hearings, removal defense strategies, special juvenile visas, and waivers.
Amy Hsu, Attorney, Daniel Stewart PLLC Immigration Law
Attorney Amy Hsu has many year of experience helping families and employers navigate the US immigration system. Her experience includes family-based immigration, employment-based immigration, deportation defense, citizenship and naturalization, VAWA and U visas, and federal court litigation. She also has experience in business litigation and small business law and an interest in renewable energy.
Amy graduated from the University Texas School of Law and also obtained her B.A. in anthropology at the University of Texas at Austin. She is a member of the American Immigration Lawyers Association, the Dallas Bar Association, and the Dallas Asian American Bar Association. She speaks Spanish and Mandarin Chinese.
Jérémy Lauer-Stumm, Deputy Economic Counselor, Embassy of France in Washington D.C.
Jérémy serves as deputy economic counselor at the economic department of the Embassy of France in Washington D.C. He joined the French Ministry for the economy and finance in 2016 as a policy advisor in charge of international financial institutions with a focus on energy and climate finance. Previously, he held positions as a business developer and legal analyst in two small businesses in France operating in energy management for utilities and energy-intensive industries. He holds a Master's degree in business affairs from the Institute of Political Studies in Grenoble.
Daniel, Amy, and Jérémy will be updating you on the latest changes to immigration and taking your questions in French, English, Spanish, or Chinese!