A Virtual Discussion with Dr. Bruce Lavin and Ben Harris.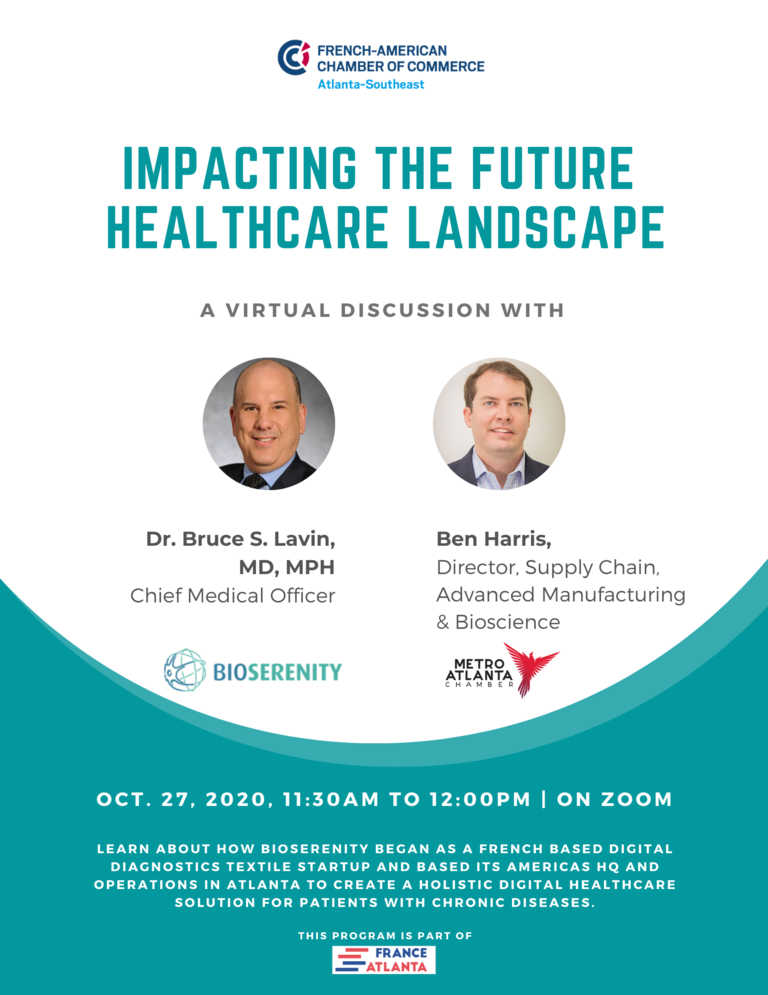 Access to quality healthcare remains a challenge complicated by mounting pressures to control costs and, as we are now witnessing, by the unprecedented strain placed on our healthcare delivery systems due to the COVID-19 pandemic. Challenges in healthcare access have driven a need for innovative approaches to ensure connectivity between patients and health providers.
During this event, Dr. Bruce S. Lavin, Chief Medical Officer at BioSerenity, will discuss how BioSerenity – which began as a French-based digital diagnostics textile startup – based its Americas headquarters and operations in Atlanta and created a holistic digital healthcare solution for patients with chronic diseases.
The discussion will be moderated by Ben Harris, Director Supply Chain, Advanced Manufacturing & Bioscience at the Metro Atlanta Chamber.
This event is part of the 2020 France-Atlanta program. Created in 2010 by the Consulate General of France in Atlanta and Georgia Tech, France-Atlanta is a series of events centered on innovation and designed to foster cooperation between France and the U.S. Southeast. More info about this year's events on https://france-atlanta.org.
Meet Our Speakers:
Dr. Bruce Lavin is Chief Medical Officer of BioSerenity. His role is head of BioSerenity Scientific and Medical Affairs, and The BioSerenity Research Unit, which includes clinical research and development, clinical applications of technology, data generation and dissemination, scientific engagement, and clinical innovations. He is also Adjunct Professor of Biomedical Science at Georgia State University and a practicing physician in Internal Medicine, Infectious Diseases, and Critical Care.
Bruce has over 35 years of clinical medicine practice and academic medicine experience, including over 20 years of research and development experience in the Biopharma Industry. Previously Dr. Lavin served as Vice President and Head of External Engagement and Policy, and Head of Medical, in the Neurology Division of UCB Pharma. Prior to joining UCB, Bruce held various executive level scientific positions in the pharmaceutical industry and several clinical positions at academic medical centers, working in Clinical Development and Medical Affairs leadership roles at Sanofi-Aventis, Novartis, and Bristol-Myers Squibb. He had faculty positions at the University of California, San Francisco and Davis. He serves on the Executive Boards of Georgia Tech, Morehouse College, Cobb County Chamber of Commerce, and AMSUS (Association of Military Surgeons of the US).
Bruce earned his Doctor of Medicine degree from the Uniformed Services University of the Health Sciences and served as a Medical Officer and Medical Division Head in the US Navy, retiring as a Navy Captain after 37 years of service. He also earned a Master of Public Health degree in Health Policy and Administration from UCLA School of Public Health and the School of Business Administration. Bruce attended American University, Western College of Law for his first-year law studies.
Ben Harris serves as Director, Supply Chain, Advanced Manufacturing & Bioscience at the Metro Atlanta Chamber where he is responsible for enhancing metro Atlanta's efforts to recruit, retain and expand companies and investment within these ecosystems. Prior to joining the Chamber, Ben was Senior Manager, Market Development for Manhattan Associates. There, Ben was responsible for developing Manhattan's sales pipeline and overall Americas supply chain marketing strategy. Ben oversaw market positioning, messaging and campaign execution to build awareness and drive new pipeline growth. Before joining Manhattan Associates, Ben spent four years with the Georgia Department of Economic Development's Center of Innovation for Logistics where he played a key role in establishing the Center as a go-to industry resource for information, support, partnership building, and investment development. Additionally, he became a key SME for many logistics and supply chain-focused projects. Ben began his career at Page International, Inc. where he drove continuous improvement in complex global supply chain operations for a wide variety of businesses and Fortune 500 companies. An APICS Certified Supply Chain Professional (CSCP), Ben holds an Executive Master's degree in Business Administration (EMBA) and bachelor's degree in International Business (BBA) from the Terry College at the University of Georgia. Ben also serves on the Board of Directors for Georgia HIMSS, Georgia QuickStart, TAG Logistics Society and Aerotropolis Atlanta Alliance.